A interesting battle has "popped" up between Amplify Snack Brands, Inc., owner of the SKINNYPOP trademark, and Snyders-Lance, which is preparing to enter the market with METCALFE'S SKINNY POPCORN.  Amplify sued Snyders-Lance in federal court in Texas on April 11.  Amplify accused Snyders-Lance of willful infringement in an obvious attempt to confuse customers.  Meanwhile, Snyders-Lance sued Amplify the same day in North Carolina for a declaration that it is not infringing Amplify's rights.
Popcorn appears to part of a larger plan by Kettle Foods Ltd. to introduce a whole line fo METCALFE SKINNY products including fruit-based snack food; nut-based snack food; fruit chips, low-fat potato chips, nuts, potato chips, bread, pastry and confectionery made of sugar, cereal bars; cereal-based snack food; corn-based snack food; crackers; rice-based snack food; rice cakes U.S. Application Nos. 87160093, 87160099, 87160107, 87160109, 87160114, 87160123).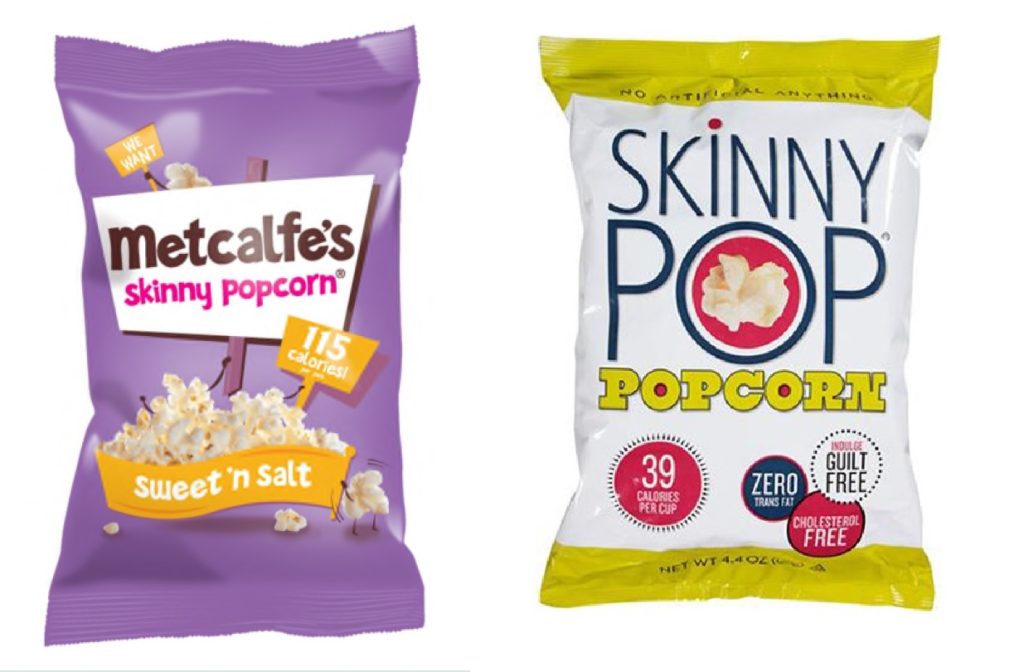 Whether SKINNY is capable of identifying source is an open question.  There 116 issued registrations and 69 pending applications on marks including the term "SKINNY" for food products. Only 9 of the registrations disclaim of "skinny," and only 10 of the applications (including all of  Kettle Foods Ltd.'s applications) disclaim "skinny."  Lance also points out that there is at least one other SKINNY popcorn already in the market: SKINNYGIRL: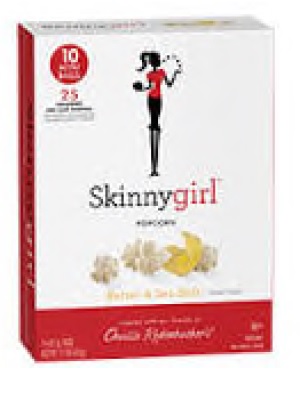 If not descriptive of food, SKINNY is certainly widely used, so whether Amplify's can show METCALFE'S SKINNY POPCORN infringes SKINNYPOP POPCORN will be interesting. Kettle Foods Ltd. will likely contend, consistent with its disclaimer of "skinny" that its use of skinny is a permitted descriptive use under 15 USC §1115(b)(4).  Amplify reportedly has $200 million in popcorn sales, so this could be a epic battle.  Get a bowl of your favorite popcorn, and pull up a chair.