Bojangles International LLC originator of the Cajun Filet Biscuit that it promotes with the jingle "GottaWannaNeedaGettaHava" has
sued
 Hardees for selling a Cajun Chicken Biscuit and using the phrase GottaWannaNeedaGettaHava to do so.
Hardees introduced its Cajun Fillet Biscuit via Twitter, and promptly received a cease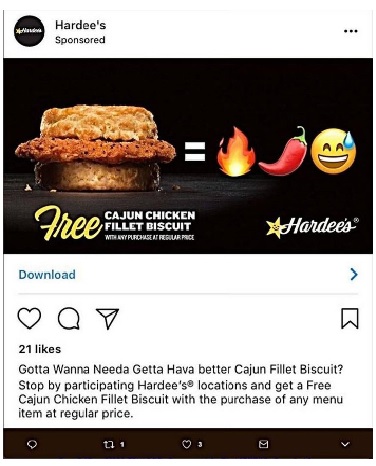 and desist letter which prompted Hardess to rename its sandwich Cajun Chicken Biscuit.  This was not enough to appease Bojangles, which brought suit in North Carolina, alleging that Cajun Chicken Biscuit infringes its federally registered Cajun Fillet Biscuit trademark, and that Hardee's introductory Tweet infringed its federally registered GottaWannaNeedaGettaHava  trademark.
It is a curious case because while Hardess indisputably used the phrase GottaWannaNeedaGettaHava in its tweet but not as a brand name, and arguably as a comparative reference to Bojangles' arguing that its Cajun Fillet Biscuit is "better." Would someone receiving this Tweet from Hardees really be confused?  Hardees started out using the Cajun Fillet Biscuit trademark, but quickly switched to Cajun Chicken Biscuit.  What would Bojangles expect Hardees to call a Cajun flavored chicken biscuit?
The case will test the limits of 15 U.S.C. § 1115(b)(4) defense for uses "otherwise than as a mark . . . which is descriptive of and used fairly and in good faith only to describe the goods or services."  Hardees will likely argue its use "GottaWannaNeedaGettaHava" was a comparative reference to Bojangles, and its use of Cajun Chicken Biscuit is descriptive of its product.  It will be interesting to see if Bojangles can make Hardees dance.