On March 26 Adidas prevailed on Summary Judgment in a trademark infringement suit alleging that its use of "You're Never Done" infringed U.S. Reg. No. 4,928,298 on YOU'RE NEVER DONE for a variety of products including athletic shoes.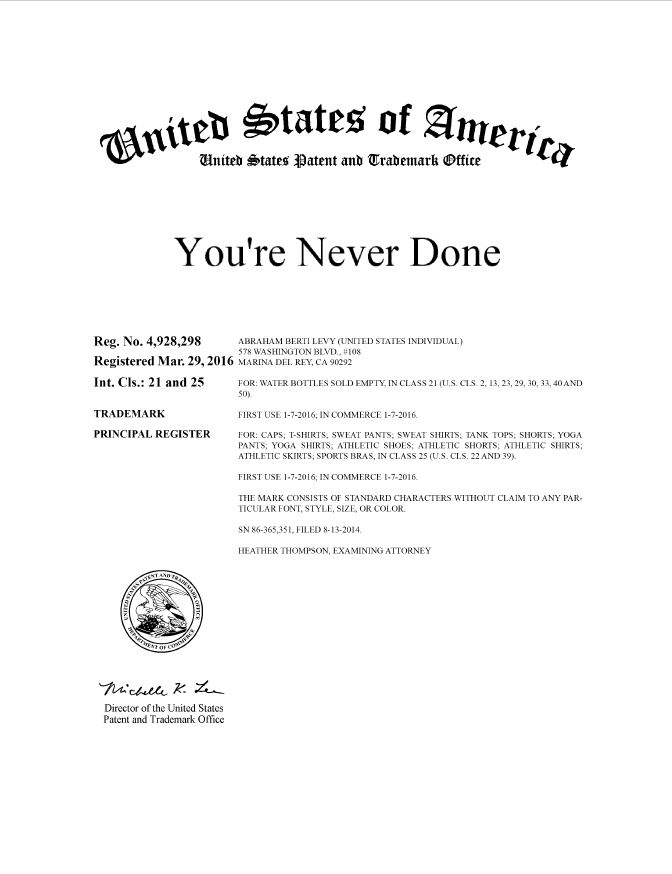 The court held that plaintiff did not use the mark in commerce before defendant. The parties did not dispute that Plaintiff did not make any product sales, because potential customers could not do so through plaintiff's website until after suit was filed. Plaintiff tried to rely on non-sales activity, such as purchasing the domain names, establishing the website, and ordering products bearing the marks. However, the district court held that these activities, taken together, reflect "mere preparation to use a term as a trademark," rather than actual use.

Ultimately, the Court found that Plaintiff's registration on the YOU'RE NEVER DONE was void ab initio. The Court then turned to the question of whether plaintiff had common law rights in YOU"RE NEVER DONE
The court found that plaintiff did not show that he used the marks in commerce such that he is entitled to common law rights in them. Just as the Court found with respect to the plaintiff's registration, Plaintiff's non-sales activity relating to YOU'RE NEVER DONE reflects "mere preparation" rather than actual use. The Court found that Adidas started its campaign in March 2018 while plaintiff conceded its actual use did not begin until October 2019. Accordingly, even if plaintiff had "used" the mark in commerce, his alleged use postdates Defendant's use, thus depriving him of any common law right in the marks.
The Court granted summary judgment in favor of defendant on the Lanham Act, and on plaintiff's state law claims as well..