1207.01(a)(ii)(A)Billie Goat Tavern & Grill in Chicago has sued St. Louis-based The Billie Goat Chip Company for trademark infringement, claiming the sale of Billie Goat Chips in Illinois and elsewhere is causing confusion with their tavern.
The brands appeared to have peacefully co-existed for a number of years.  The Tavern was established in 1934, and their mark has been federally registered since 1982.  The Chip Company started in 2009, and their mark has been federally registered since 2010, which registration is now incontestable.
It appears that the Chip Company's distribution recently expanded to Chicago, which apparently got the Tavern's goat.  However it also appears that for the first time in 83 years, the Tavern decided to offer burgers and beer in local stores.  The Complaint also reveals Tavern has designs on offering "its iconic chips at retail locations shortly" [¶ 17].  However, from the pictures on their website, you would expect that the Tavern's iconic chips are Vitner's chips.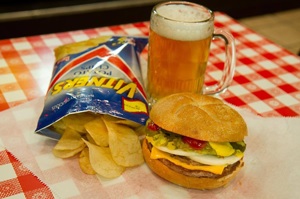 It seems that the Tavern is the source of some of its own problems.  It is a basic premise to trademark law that if you snooze, you lose (this would sound much more authoritative in Latin).  The first user of a mark who does not expand its use after having a reasonable time to do so may lose out to the second comer who does expand.  At the Tavern's behest the U.S. District Court in Chicago will have to decide whether the Chip Company's activities are likely to cause confusion, but this question is complicated by the Tavern's recent belated expansion into retail stores.  The Tavern may have to prove likelihood of confusion based only on its activities prior to the expansion.  The TMEP §1207.01(a)(ii)(A) rejects a per se rule that food and beverage products are confusingly similar to restaurant services.  The Tavern may also have to contend with some third parties, including Billy Goat Ice Cream Co, registered for ice cream (4822106), Billy Goat Coffee Café, which is registered for cafe services (3380184 and 3380185), and Billy Goat Hill Estate, which is registered for wine (3195405).
At first blush, it appears both parties did what they were supposed to, each applying for, obtaining, and maintaining multiple federal trademark registrations for their respective marks.  Yet the parties still find themselves in a dispute.  This case is a reminder that a senior user needs to monitor the marketplace and address subsequent filers and user early on, or risk having new comers establish rights that diminish the first users rights.
This would seem to be an opportunity for collaboration rather than litigation — too bad the parties are probably as stubborn as goats.